Top Life Science Companies Leading the Way in Biometric Data
24 Oct, 2023
6 minutes
Life science companies are always looking for ways to harness state-of-the-art technology to...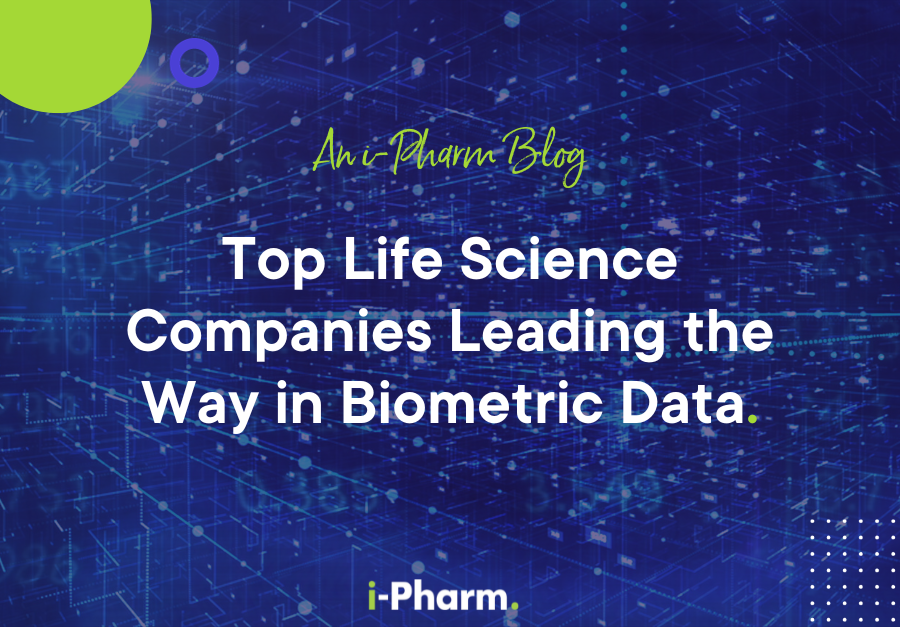 Life science companies are always looking for ways to harness state-of-the-art technology to improve the safety and efficacy of research and patient care. Biometrics data is a groundbreaking innovation that has reshaped the way pharmaceutical and medtech firms conduct their research into drugs and medical equipment. Given the rapid technological evolution in recent decades, the role of biometrics in research and development is set to become all the more important going forward.
In 2023, the UK government pledged £650 million to bolster the life sciences sector, which reflects just how crucial the industry is to Britain's economy. As the demand for more personalised forms of medicine and better clinical trials intensifies, life science companies will be looking to ensure that a portion of government funding goes into the development of biometrics. In the near future, biometric data will be instrumental in ensuring that the way healthcare is delivered is safer and more personalised.
In this guide, we'll explore the importance of biometrics in the sector and look at 5 of the most influential life science companies pioneering biometrics.


The Importance of Biometric Data in Life Sciences
The importance of biometric data in life sciences cannot be understated, and it's already profoundly impacting the sector. Many top pharmaceutical companies use biometrics to enhance their clinical trials. Not only can biometric data improve clinical trial results, but it is also useful in identifying patients and monitoring their progress over time. Biometric data is also vital for preventing fraud and protecting privacy. For instance, when fingerprints are used to confirm the identity of patients, it is much harder for fraudsters to gain unauthorised access to their records.
From enhancing security to making clinical research results more accurate, biometric data has revolutionised many aspects of the pharmaceutical, biotech, and medtech industries, which begs the question: What does the future hold for biometrics?
As technology continues to develop, how much can be gained from leveraging biometrics in the future? There are various potential applications of biometrics, all of which underline its significance to the life sciences sector. Here are the key areas:
Wearable technology. Wearable devices are becoming increasingly common, with companies like Apple and Fitbit selling popular wearables. Products like Apple Watch and Fitbit Fitness Trackers can track and monitor various health metrics, and in the near future, pharma firms could utilise this kind of technology for pharmacovigilance and tracking the well-being of clinical trial participants.

Virtual clinical trials. As biometric technology advances, it is conceivable that clinical trials may be conducted entirely virtually. Rather than attending a hospital or medical centre, participants can be sent candidate drugs, and biometric devices such as wearable technologies can be used to monitor them. Not only would this style of clinical trial cause less hassle for participants, but it would also cut down on clinical trial costs.

Personalised medicine. Everyone has their own unique set of medical needs. In an era where technology is rapidly reshaping the way we live our lives, the demand for a personalised approach to medicine is growing. By gathering genetic information via DNA biometrics, physicians can create bespoke treatment plans centred around the patient's individual needs.
5 Life Science Companies at the Forefront of Biometrics
Biometrics is another area where the pioneering work of life science companies can boost public health. Many firms are going above and beyond to future-proof their research and development through biometrics, and here are 5 examples of companies that are leading the way:
1. AstraZeneca
AstraZeneca is one of the world's most recognisable pharmaceutical companies, specialising in drug research, development, and manufacture. Having garnered acclaim for their Covid-19 vaccine and oncology treatment, AstraZeneca champions using biometrics to enhance clinical development. As well as producing life-saving vaccines, they have achieved a range of other innovations, including providing much-needed therapeutics to emerging markets and their significant contributions to sustainable development goals.
Committed to utilising biometric data to improve clinical research, AstraZeneca employs a dedicated biometrics team that specialises in using statistics, programming, and clinical data to improve product quality and development. They are tasked with a range of important research and development duties, including designing optimised clinical programs, analysing statistics for key business decisions, and using high-quality evidence for making healthcare decisions. With a patient-centric outlook, AstraZeneca aims to continue using biometric data to produce life-changing medications throughout the 2020s and beyond.
2. Pfizer
Pfizer is another titan of the life sciences world, whose innovative mRNA vaccine proved to be highly effective in treating severe Covid cases. Established in the mid-1800s, the leading pharmaceutical company has achieved several important milestones, from the mass production of penicillin to the distribution of medication for mental health disorders. As a pharma firm with innovation at the heart of its philosophy, they lead the way in incorporating biometric data into their drug development processes.
They are renowned for collecting biometric data such as voice recordings, facial scans, and fingerprints during clinical trials. Biometric security is also a top priority for the company, using fingerprint scanners and facial recognition software to limit access to restricted areas and ensure that the right patients are receiving the correct treatments.
3. Thermo Fisher Scientific
Thermo Fisher Scientific is one of the world's top biotechnology companies and offers state-of-the-art laboratory equipment and scientific research services. Established in 2016, the company aims to make the world cleaner and healthier by providing best-in-class scientific instruments, consumables, and software services. One of its key ambitions is to improve the area of diagnostics and make it easier for healthcare providers to mitigate the risks associated with erroneous diagnoses.
Aside from its work in diagnostics, Thermo Fisher Scientific has emerged as a leading light in biometrics. Their engineers have designed numerous laboratory instruments for collecting biometric data, such as the RapidHIT ID System, a DNA analyser that uses biometrics for verifying identities. Like comparable life science companies, they collect biometric data using fingerprint scanners and facial recognition cameras.
4. GE Healthcare
GE Healthcare has a reputation for being one of the world's most influential medical technology companies, with more than 259,000 patients having been supported by using their cloud-based imaging technology. With more than 50,000 employees worldwide, the company is committed to supporting hospitals to become more efficient and develop effective therapies. They strive to be a key player in the precision care sector, producing technologies that combine innovation and a patient-centric approach.
With a reputation for producing cutting-edge technologies, GE Healthcare manufactures biometric access control systems and facial recognition software designed to identify and authenticate individuals. They also have state-of-the-art voiceprint identification software to verify patients' identities at home rather than in a healthcare setting. Their work in the biometrics space has earned them much acclaim, and in 2023, they entered into a commercial partnership with Imaging Biometrics LLC, a firm that develops software applications for healthcare services.
5. Roche
Roche is a long-established healthcare firm dedicated to utilising biometric technology to improve patient safety and speed up vital clinical research. As a global pioneer in the pharmaceutical industry, Roche has earned a reputation for their effective cancer treatments. Aiming to make it simpler for patients to access innovative treatments, the firm has developed numerous medicines that are included in the World Health Organization Model Lists of Essential Medicines.
With expertise in the pharmaceutical and diagnostics sectors, Roche has been at the pinnacle of incorporating biometrics into their research and clinical trials. From using fingerprint authentication to verify patients' identities to facial recognition software that ensures that the right participants receive the treatment they've been allocated, they specialise in various biometric applications.
The Final Word
Biometric data is becoming increasingly important in the life sciences sector, with many top pharmaceutical and medtech companies using it to enhance clinical trials, identify patients, monitor their progress, and prevent fraud. Biometrics is also useful in enhancing security and protecting privacy.
As technology continues to develop, biometrics is set to become even more important in the future, with potential applications in wearable technology, virtual clinical trials, and personalised medicine. The UK government has pledged significant funding to the life sciences sector, and life science companies will be looking to ensure that a portion of this funding goes into the development of biometrics.
The Blog also highlighted five influential life science companies pioneering biometrics, including AstraZeneca, Pfizer, Thermo Fisher Scientific, GE Healthcare, and Roche. These companies are leading the way in incorporating biometric data into their drug development processes, and their innovative work is helping to boost public health.
Our Commitment to Life Sciences Recruitment
At I-Pharm, we are proud to be experts in life sciences recruitment. Our exceptional biometrics consultants have been connecting outstanding candidates with top life science companies since 2008. Whether you are a graduate looking to kickstart your career or a seasoned professional looking for a new and rewarding challenge, we are here to support you. We invite you to contact us today, and one of our recruiters will speak with you about your goals.