What Is the Drug Development Process?
28 Sep, 2023
9 minutes
The number one goal of the pharmaceutical industry is to produce drugs that are safe and eff...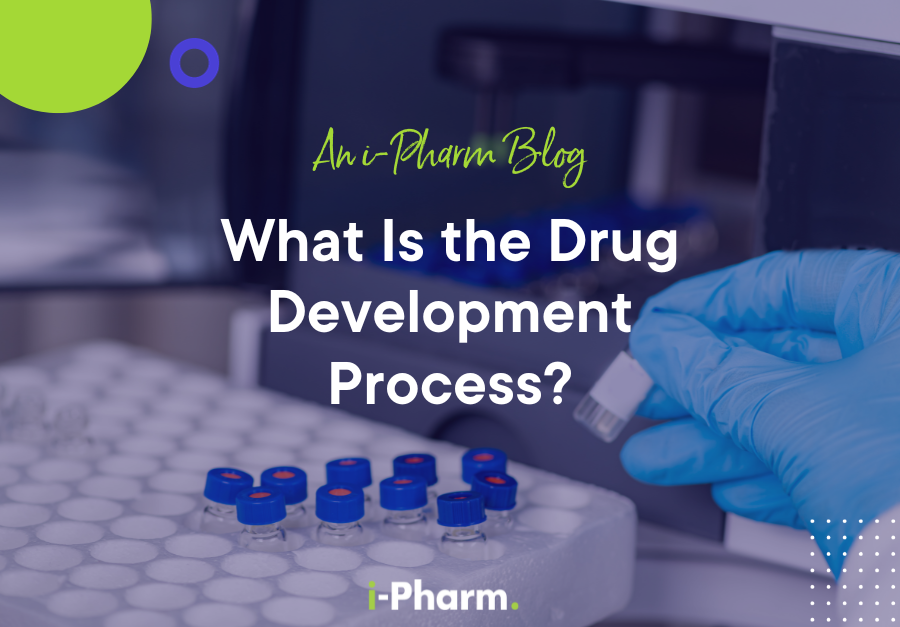 The number one goal of the pharmaceutical industry is to produce drugs that are safe and effective, and that's why there is such a focus on ensuring that the drug development process is as rigorous and robust as possible. Cancer treatments, antibiotics, and vaccines that the pharmaceutical industry manufactures today allow people to live longer and healthier lives, and this modern medical triumph is precisely due to stringent pharmaceutical manufacturing processes.
There are numerous challenges that pose a threat to the prosperity of pharmaceutical manufacturing, such as skills shortages, supply chain disruptions, and higher costs. To make sure that the undoubted successes of modern drug development processes continue, the pharmaceutical industry needs to recruit and retain high-quality candidates to fill all-important roles.
From the research phase to the final quality assurance checks, every stage of the medicine development process is vital and relies on specialist staff. In this guide, we will explore the process behind the pharmaceutical manufacturing process and the top pharmaceutical manufacturing jobs typically associated with each step.
5 Key Steps in the Drug Development Process
The drug development process not only results in safer and more effective medications, but it also positively impacts disease prevention, scientific advancements, and the financial prosperity of pharmaceutical companies. There are many steps involved in the development of drugs, and here are 5 of the most important:
1. Discovery and Research
In this initial step, research scientists are tasked with identifying molecules that have the potential to counteract specific diseases and illnesses. They usually have access to extensive amounts of existing molecules that they can test; otherwise, they can implement state-of-the-art chemistry and biotechnology techniques to create a brand-new molecule from scratch.
According to Pfizer, between 5,000 and 10,000 molecule combinations are screened in the discovery process. Once the molecule is made into a compound, scientists assess its safety using computer simulations, animal testing, and in vitro studies.
Key jobs associated with the discovery and research stage include:
Research Scientist
Responsible for discovering new compounds and how well they respond to disease-causing cells, research scientists play an essential role in the discovery phase. Their work ultimately decides whether the compounds have the potential to become widely-used medicines. Research scientist job responsibilities include:
Plan, design, and carry out experiments

Conduct fieldwork and collect samples

Present research proposals and experiment results to investors and staff

Provide training and guidance for junior members of staff

Keep up to date with the latest scientific news and developments
Animal Technician
The primary duty of an animal technician is to take care of animals used in scientific research. They play an essential role in the scientific research process, as animals are used to determine the safety and efficacy of drug candidates. To successfully perform their duties, animal technicians must consider ethical guidelines and regulatory requirements. Animal technician job responsibilities include:
Provide water, food, and exercise for the animals in your care

Ensure that the animals are regularly cleaned

Monitor and control the conditions where the animals are housed

Make sure that hygiene rules are stringently followed

Conduct frequent observations
Biochemist
Biochemists study the biological factors involved in disease-causing cells. They apply their in-depth knowledge of biological and chemical concepts to identify potential drug targets and possible therapeutic interventions. Biochemist job responsibilities include:
Design and carry out scientific experiments

Ensure that official laboratory procedures are rigorously followed

Manage lab teams and assess the quality of their work

Utilise mathematical modelling and computer software

Present research findings and write detailed scientific articles
2. Medicine Development
Once scientists have discovered the right compound, they can begin to make the medicine. Turning experimental molecules into safe medications is no easy feat, and this stage of the process asks pharmaceutical scientists to perform a broad range of vital tests. Not only do they have to make the drug in the lab, but they also need to ascertain the optimal dose, how it will be mass-produced, and whether it will take the form of a tablet, ointment, or liquid.
Key jobs associated with the medicine development stage include:
Pharmaceutical Scientist
Pharmaceutical scientists are trained to turn compounds into viable drugs for clinical trials. Their main role is to determine the formulation and dosage of drugs while providing expert advice to drug companies on pharmaceutical development. Pharmaceutical scientist job responsibilities:
Evaluate the effectiveness of medicines

Test drugs on human and animal test subjects

Produce reports detailing experiment findings

Organise the acquisition, maintenance, and repair of laboratory supplies

Educate clients and patients about the risks and benefits associated with drugs
Biomedical Scientist
Biomedical scientists are heavily involved with the preclinical medicine development phase, using their practical lab skills to help create new drug candidates. They are responsible for analysing data that will determine whether a drug is safe enough to progress to human clinical trials. Biomedical scientist job responsibilities include:
Conduct routine testing of biological samples

Identify and monitor unexpected results and convey findings to colleagues

Run and perform maintenance checks on specialist lab equipment

Keep accurate records of data, reports, and results

Provide training and guidance for junior biomedical scientists
Laboratory Technician
From setting up and maintaining library equipment to preparing samples, laboratory technicians perform a variety of tasks designed to assist scientists in the discovery and development stages. Laboratory technicians' job responsibilities include:
Check stock levels and order more equipment if necessary

Set up lab equipment by sterilising and calibrating

Perform laboratory testing tasks

Carry out clerical tasks like filing reports and data entry

Correctly label, sort, and store lab equipment


3. Clinical Trials
The clinical trial stage is perhaps the most pivotal part of the drug development process. This is the point where the candidate drug is tested in human subjects to determine the medicine's safety, dosage, and potential adverse side effects. Clinical trials coordinators are in charge of overseeing trials, and the pool of participants can include healthy and patient volunteers. Clinical trials tend to consist of four phases:
Phase 1 - The new drug is tested on a small number of healthy participants

Phase 2 - A larger group of volunteers with the disease is given the medicine to assess the short-term effects

Phase 3 - The drug is tested on a much larger patient population to monitor side effects and compare it to existing treatments

Phase 4 - The effectiveness of the drug continues to be studied for a prolonged period
Key jobs associated with the clinical trials stage include:
Clinical Trials Coordinator
Responsible for overseeing and managing the operational side of clinical trials, clinical trials coordinators liaise with researchers, investigators, and regulators to make sure that the trials take place in an ethical manner. They have to oversee all stages of the clinical trials process, from managing the budget to monitoring adverse event reports. Clinical trials coordinators' job responsibilities include the following:
Collect and analyse data obtained from clinical research

Inform participants about research objectives

Ensure that ethical and regulatory standards are strictly adhered to

Monitor research participants to make sure they follow the research rules

Collaborate with laboratory staff and inform them of findings
Clinical Data Manager
Clinical data managers ensure that the collection, management, and analysis of the clinical trial data is as accurate as possible. They develop data management plans that outline procedures, data collection tools, and guidelines. In addition, they aim to make sure that the data is kept private and secure as per data protection laws. Clinical data manager job responsibilities include:
Manage and maintain data documentation and record management systems

Create reports with updates on clinical research progress

Identify key trends and issues in clinical trial data

Offer training and guidance on procedures and work processes to junior members of staff

Forge constructive relationships with regulatory agencies
Biostatistician
Biostatisticians apply their expertise in data and statistics to analyse and interpret clinical trial results. They perform a variety of important duties, such as determining sample size, creating a statistical analysis plan, and conducting adverse event analysis. While the responsibilities of biostatisticians differ depending on the nature of their role, here are the general responsibilities all biostatisticians typically carry out:
Analyse data to determine the effectiveness of treatments

Collaborate with subject experts and clinical researchers

Suggest improvements to drugs based on clinical findings

Make recommendations to solve issues around quality and timelines

Design automated processes for repetitive data analysis tasks
Are you looking for fresh talent to join your pharmaceutical team? To learn all about how we can help you find the perfect candidate for your organisation, we invite you to check out our dedicated Clients page.
4. Regulation
If the medicine is found to be safe, effective, and suitable for mass production, then the results from the clinical trials will be submitted to The Medicines and Healthcare Products Regulatory Agency for official approval. The regulator will conduct a cost-benefit analysis to see whether the pros of the drug outweigh the risk of any side effects. Regulatory affairs teams are responsible for ensuring that their company's drug complies with the necessary legislation, providing advice and guidance on how to improve compliance.
Key jobs associated with the regulation stage include:
Regulatory Affairs Officer
Ensuring compliance with regulatory requirements is crucial to the drug development process, and regulatory affairs officers are at the forefront of that goal. They are tasked with implementing procedures that guarantee that pharma companies are following rules and regulations. Regulatory affairs officer job responsibilities include:
Oversee drug trials and carry out regular inspections

Collaborate and negotiate with regulatory authorities such as the MHRA

Provide expert advice about best practices for regulatory affairs

Negotiate with regulators to get market authorisation

Maintaining regulatory files and databases
Regulatory Affairs Manager
Regulatory affairs managers lead regulatory affairs teams and are responsible for developing strategies that guarantee compliance with the latest legislation. They are tasked with a wide variety of duties, from developing strategies for meeting regulatory standards to maintaining professional relationships with regulatory agencies. Regulatory affairs manager job responsibilities include:
Oversee regulatory submissions and approvals

Liase between regulatory authorities and pharmaceutical companies

Keep up to date with the latest regulatory affairs guidelines and advice companies accordingly

Provide expert advice companies can use to improve regulatory compliance

Promptly respond to requests for information from regulatory authorities
Pharmacovigilance Specialist
Pharmacovigilance specialists are concerned with identifying and reporting adverse reactions to drugs. From contributing to implementing robust pharmacovigilance processes to conducting risk-benefit assessments, they perform a variety of tasks intended to minimise the overall risk of new and existing medications. Pharmacovigilance specialist job responsibilities include:
Register and handle safety reports

Assess and monitor the safety of pharmaceutical products throughout their life cycle

Implement procedures to maintain regulatory compliance

Regularly conduct safety assessments

Provide training for colleagues regarding their responsibilities for drug safety
5. Supply and Manufacture
Once the license for the new drug is granted, it is ready for the supply and manufacture stage. Many pharmaceutical companies manufacture medicines at their facilities, though they may also utilise third-party organisations to assist with the mass production and warehousing of their drugs. Those involved in the quality assurance process specialise in testing the manufactured drugs to make sure that they pass safety and quality control tests.
Key jobs associated with the supply and manufacture stage include:
Quality Assurance Inspector
Pharma firms are under increasing pressure to ensure that their medications are developed and manufactured in accordance with the required quality standards, and quality assurance inspectors are responsible for meeting this key expectation. Their daily duties consist of quality inspections, quality control testing, and managing compliance failures. Quality assurance inspector job responsibilities:
Approving or rejecting pharmaceutical products

Identifying and reporting defects

Responding to quality-related issues and implementing procedures to avoid repeated problems

Collaborate with other departments to ensure the safety of products

Monitor and supervise the production process
Supply Chain Manager
Supply chain managers are expected to ensure that the production and distribution of pharmaceutical products are conducted in an efficient and compliant way. Inventory management, implementing logistics and distribution strategies, and demand forecasting are just some of their core tasks. Supply chain manager job responsibilities:
Analyse shipping, delivery, and production process to pinpoint issues that impact efficiency

Evaluate KPIs like delivery times, turnover, and cost-effectiveness

Implement systems to ensure that the supply chain process is efficient and in line with safety regulations

Monitor and maintain accurate inventory records and carry out stock replenishment where necessary

Provide training on standard operating procedures associated with the supply chain process
Logistics Coordinator
The swift and efficient movement of drugs is key when it comes to the supply of pharmaceutical products, and logistics coordinators are tasked with overseeing this stage of the process. They are responsible for a wide array of important tasks, such as transport management, warehousing and distribution, risk management, and regulatory compliance. Logistics coordinator job responsibilities:
Manage all aspects of supply chain operations

Liaise with suppliers to negotiate contracts and ensure delivery of goods

Oversee storage, stock, and transportation arrangements

Outline shipment timelines and resolve issues that arise

Create innovative solutions to streamline and optimise logistics operations
The Final Word
The global pharmaceutical industry is set to be worth 1.7 trillion US dollars by 2025, and this prosperity is likely to give rise to a wide array of drug development jobs. The drug development process involves several key steps, including discovery and research, medicine development, clinical trials, regulation, and supply and manufacture. Each stage requires specialised professionals who contribute their expertise to ensure the quality, safety, and efficacy of medications.
However, the industry faces challenges such as skills shortages and supply chain disruptions. To sustain its success, the pharmaceutical industry must focus on recruiting and retaining high-quality candidates for these vital roles. By doing so, it can continue to innovate and provide life-saving treatments that benefit individuals and society as a whole.
Find Out More About Our Work in Pharmaceutical Recruitment
We have been connecting high-calibre candidates with top pharmaceutical, biotech and medtech companies in the UK and beyond. Our top-tier consultants have been helping clients and candidates alike since 2008, and our ethical approach to pharmaceutical recruitment has earned us an esteemed reputation.
Are you a candidate looking for the latest pharmaceutical manufacturing jobs? Or a pharma firm looking for an exceptional candidate to join your organisation? We encourage you to get in contact with us today, and a member of our team will talk to you about your recruitment ambitions.