Push for Automation: A necessity for Life Sciences
30 Dec, 2022
7 Minutes
Numerous industries have been greatly impacted by significant advancements in automation tec...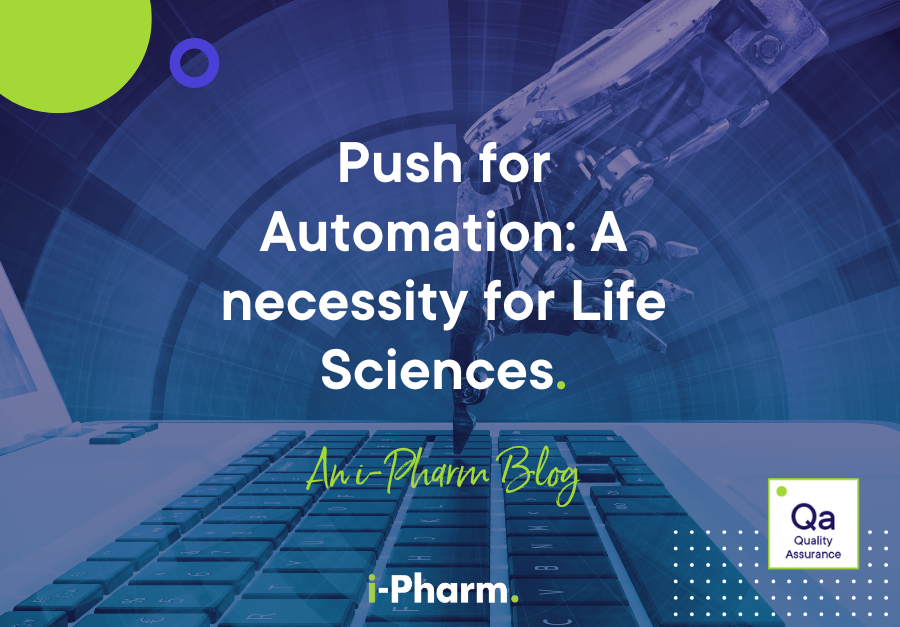 Numerous industries have been greatly impacted by significant advancements in automation technology, which have streamlined and expedited numerous company operations. Meanwhile, intelligent automation has freed employees from menial and repetitive activities, allowing them to concentrate on higher-level jobs and initiatives. Could a push for automation also be a necessity in the life sciences industry?
How does Automation impact the Life Sciences industry?
The life sciences intelligent automation market is expected to reach between $450 and $490 million by 2023, indicating that growth in this industry is expected to accelerate. This rise is being driven by the anticipated advantages of greater efficiency, improved patient and end-user experience, and increased compliance. Employees will have more time to focus on jobs that add value, boost customer engagement, and ultimately increase revenue thanks to automation of duties that have a "robotic" quality. Robotic Process Automation (RPA), thus, directly improves the patient and end-user experience, while also changing the efficiency equation. Contract Research Organisations (CROs), pharma, and biotech leaders are embracing RPA as a solution to combine many sources of enormous volumes of data for review and insight due to the growing need to produce operational efficiency.
The life sciences space has the potential to see great benefits from automation, however it is a sector that was late to accept technology compared to others until quite recently. Life sciences businesses have increased their investment in automated technology and scaled it up since the Covid-19 pandemic to boost output and efficiency. The push for automation has benefited drug discovery and the advancement of life sciences, providing the opportunity to transform traditional processes of development, manufacturing and regulation for faster and effective patient care.
What are some of the benefits of automation in the life sciences industry?
Streamlined technological operations
Data-driven automation technologies can be used in life sciences enterprises, such as pharmaceutical firms, to perform tasks including quality control, reporting, manufacturing, market fulfilment, and supply chain management. In order to make sure that the results of life sciences research, development, and implementation are available to the market for which they are intended, operations management is a crucial component.
The patient and end-user experience are immediately improved by automation of products and services, which motivates the life sciences industry to seek out a competitive edge and develop automation technology's capabilities even further in the future.
Research and Development
The future of healthcare and medical research lies in life sciences. Many businesses want to get rid of human error from the process of recording and rating medications. Artificial intelligence and machine learning automation as an analytics tool enables more rapid and accurate data collecting and product quality evaluation. By fusing many data sources together and conducting cross checks, it makes data analysis more effective.
Improved Regulatory Process
The regulatory procedure for drug approvals has historically been a complex and drawn-out procedure. Scientists who are entrusted with determining a new drug's efficacy and safety for human use are involved in the process.
Organisations are now more likely to be audited for non-compliance with regulations as a result of global changes to the regulatory processes. The challenging and expensive compliance requirements are always evolving. The higher cost of compliance is a result of updates to formulation, design, production, packaging, and supply networks, among other factors. The ability of an organisation to manage the regulatory process will be improved by using an automated procedure to collect, process, analyse, archive, and exchange data.
Conclusion
There are vast quantifiable benefits of robotic process automation within the life sciences industry including speed and consistency in data entry, data analysis, quality control, and audit preparedness in activities, including clinical, regulatory, safety, and lab operations. The life sciences area is one that automation greatly benefits. The push for automation in the life sciences industry has benefited the impact of drug discovery vastly and requires further development to enhance future results.
At i-Pharm, we are dedicated to helping our candidates find roles suited best to them so they can excel in their life sciences journey and better the lives of many patients around the world.
i-Pharm Consulting is a leading provider of staffing services in the Quality Assurance and Technical Operations space working with a large range of Pharmaceutical, Biotechnology and Contract Research Organisations.