CAR T-Cell Therapy A promising finding in treating gastric cancers.
29 Dec, 2022
7 Minutes
Gastric cancer is a disease where malignant cancer cells are formed in the lining of the sto...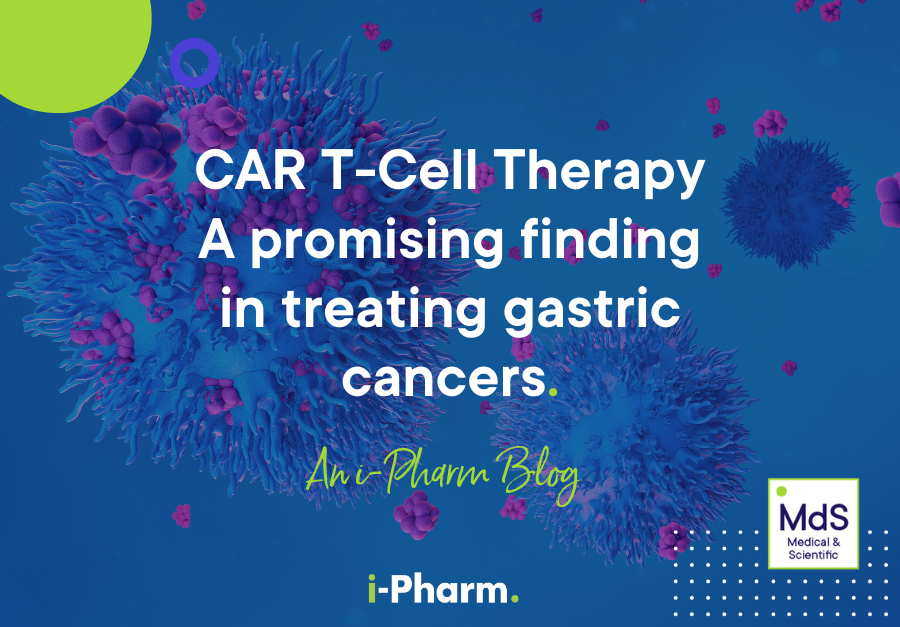 Gastric cancer is a disease where malignant cancer cells are formed in the lining of the stomach. The risk of acquiring gastric cancer can be influenced by factors like nutrition, age, and stomach conditions. Many cases of stomach cancer cannot be completely cured, and this form of cancer can be fatal if not found early. However, a promising finding in treating Gastric Cancers has given hope and optimism for future research and development.
What is CAR T-Cell Therapy?
Chimeric Antigen Receptor (CAR) T-cell therapies have been approved by the FDA for the treatment of blood cancers, lymphomas, and some forms of leukaemia. White blood cells, or T cells, are taken from patients and are modified in CAR T-cell therapy, so then they can identify and eradicate cancer cells. These cells are destroyed through targeting tumours which contain a protein called CLDN18 - found in many other cancers, including Gastric Cancer (GC). Two decades ago, the first CAR T-cell therapy clinical trials were conducted in the USA for the treatment of patients with metastatic renal carcinoma and ovarian cancer. 1038 clinical studies have been registered on ClinicalTrials.gov in total to date, of which more than 400 of these clinical trials are connected to treatment of cancer.
What are the challenges?
In a small number of patients with relapsed or refractory haematological malignancies, CAR T-cell therapy has led to a long-lasting remission; nevertheless, its effectiveness in GC has not yet been fully understood. The development of CAR T-cell treatment for patients with GC has been hampered by severe toxicity. The most prevalent and harmful toxicity is cytokine release syndrome (CRS), a non-antigen-specific toxicity that causes multiple organ dysfunction syndrome and respiratory distress syndrome (MODS). In a clinical, a colon cancer patient experienced acute respiratory distress shortly after therapy and passed away from MODS 5 days later. This was a consequence of high-affinity targeting CAR T-cells recognising and attacking normal cardiovascular tissue with minimal HER2 expression. In addition, two people died as a result of manufactured CAR T-cells producing CRS, which led to the suspension of another clinical trial. However, such studies have provided valuable and essential medical insight into the management and understanding of CAR T-Cell associated toxicities in gastric cancer therapies in the future.
A Promising Finding

One of the most common digestive malignancies, Gastric cancer (GC) is the third most common cause of cancer-related death globally. 29 nations had a 5-year survival rate of less than 30%, accounting for 46% of all the countries evaluated, according to CONCORD-3 statistical data on GC collected from 62 countries between 2010 and 2014. There is a significant need for alternative therapeutic approaches because current conventional treatments, such as surgery, chemotherapy, and radiotherapy, have a limited efficacy in GC. CAR T-cell therapy, an experimental cancer treatment that infuses designer immune cells into patients, has shown early promise through clinical trials by shrinking tumours in the digestive system.
An experiment conducted in Beijing is being undertaken by researchers who believe the results show the possibility for using genetically altered immune cells to treat advanced gastrointestinal malignancies, even though they are based on an initial safety assessment of the method. According to preliminary findings from the first round of the clinical trial, 48.6% of the 37 patients who have received treatment so far had smaller tumours after the therapy. The 6-month overall survival rate for patients with GC was 81.2%, while the overall response rate and disease control rate were 57.1% and 75.0%, respectively. The preliminary findings suggest that CAR T-cell therapy offers potential effectiveness and an acceptable safety profile in patients with GC. You can read more in the following published article.
Conclusion
Despite facing numerous obstacles and problems, CAR T-cell immunotherapy is still regarded as the most effective treatment for Gastric Cancer. Although GC CAR T-cell research is still in its early phase of research, the encouraging outcomes of trials offer a justification for future investigation of its application in clinical practice.
At i-Pharm, we are dedicated to helping our candidates find roles suited best to them so they can excel in their life sciences journey and better the lives of many patients around the world.
i-Pharm Consulting is a leading provider of staffing services in the Medical and Scientific space working with a large range of Pharmaceutical, Biotechnology and Contract Research Organisations.