From Trainee to Global Director - A Q&A with Aoife Cronin
03 Oct, 2023
5 minutes
i-Pharm's Employee Spotlight Interview series provides an inside look into the i-Pharm exper...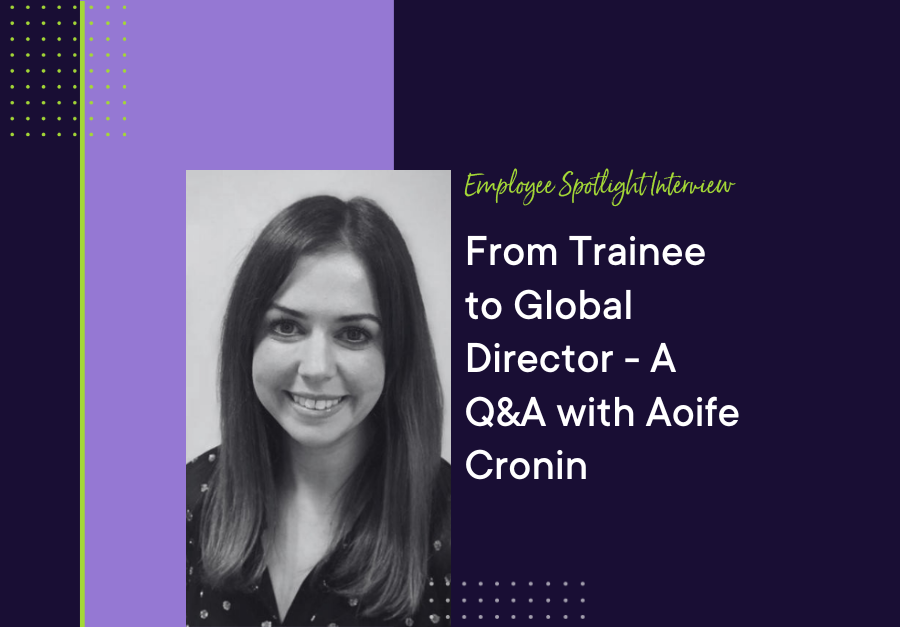 i-Pharm's Employee Spotlight Interview series provides an inside look into the i-Pharm experience. Through these interviews, you'll gain insights from our current employees, discover what it's really like to work here, receive valuable tips for becoming a successful recruiter, and learn why you should consider joining us on our exciting journey. Reach out to us for more information on our current vacancies!
How long have you worked at i-Pharm Consulting and what are the main responsibilities of your role?
I have been with i-Pharm for over 11 years. I joined when we were just 12 people in the company, situated in a small office in Fulham. I had no prior recruitment experience; I joined pretty much right after university. I had a good feeling about the company after meeting our Founders, Colin and Stephen.
My role has evolved significantly over the years. During the initial phase of my career, I worked as a hands-on recruiter within the Contracts Team. I transitioned between roles as an individual contributor, Team Lead, and Manager. Later, a wonderful opportunity arose to establish and lead our US division. Consequently, I moved to New York in 2019, where our first US entity was established. From that point, I contributed to operational and strategic decisions for our US operations. Subsequently, I transitioned into a client services-facing role. Presently, I am responsible for overseeing our CRO clients globally to ensure that i-Pharm consistently delivers high-quality services.
How did you get to where you are now?
I attended University College Cork in Ireland, where I pursued a general business degree. Initially uncertain about my career path, I knew I enjoyed working with people and was driven by financial incentives. Thus, my goal was to find a career that combined both aspects to achieve happiness. Like many recruiters, I stumbled into recruitment. Upon moving from Cork to London, I interviewed with i-Pharm and another large recruitment company. However, i-Pharm resonated more with me due to the discussions about opportunities, training, and the authenticity of the individuals I met.
With this gut feeling, I decided to give i-Pharm a try and see how things went. I joined the company as a graduate recruiter. Through sheer determination, I believed that hard work and focus could surpass skill, a principle I've held.
My personal motivation, combined with i-Pharms' supportive environment for vocalising career aspirations and rewarding hard work, created a synergy that provided opportunities under one roof. Through my dedication in the earlier stages of my career, I earned the backing of our Founders to establish a business abroad for the company which was a huge personal goal of mine. I was very grateful of the opportunity Stephen and Colin gave me and also proud of myself to have earned that chance to do it.
What do you enjoy most about working at i-Pharm?
I admire the strong sense of collaboration in what we do. At i-Pharm, everyone is more than willing to help one another and invest genuine time in their colleagues. The environment has consistently been one of support and collaboration, which is a major factor that has kept me here. Simultaneously, it's a setting of competition and high performance – aspects that resonate with my nature. I've always aimed to become a better version of myself, constantly striving to enhance my skills. This culture we've cultivated strikes a balance between mutual support and the pursuit of excellence. Everyone wants to see each other succeed, while also upholding a commitment to high performance and achievement.
My journey with i-Pharm has been significantly shaped by this ethos, which revolves around delivering top-tier services to clients and candidates. It's about positioning ourselves to offer the highest quality service possible, setting the bar high, and continually bettering ourselves.
What have been your proudest achievements, individually and as a team?
So, starting with the team, I think back to when we began in New York. As employee number one, witnessing the growth to where we are now, with around 40 to 50 people in the US, is truly remarkable. It's not only the sheer number that's impressive, but also the calibre of individuals who have joined our ranks to build this team over the years. The period from 2019 until now has been remarkable. We've managed to establish an impressive culture, not just in New York, but also in Charlotte and recently in San Diego.
What would you do (for a career) if you weren't in recruitment?
What I would really love to do is become a career guidance counsellor, focusing especially on young women. This holds great significance for me. I want to guide those still in school, but more importantly, those in universities pursuing general degrees, much like I did. Unlike individuals with specialised fields like accounting, who often have a clear path, I understood that identifying my passion and applying myself would lead to success. However, I struggled with uncertainty about what my career trajectory could be.
If you could meet anyone, living or dead, who would you meet?
Being from Cork, I have strong admiration for Roy Keane, former Manchester United Captain and Irish soccer legend. His passion, having standards and a pursuit of excellence in whatever you do attitude is something I have always admired. Sticking on the theme of Sports Stars, I'd also love to meet Rory McIlroy, current world no.2 Golfer. In sport, you must have strong resilience and a way to manage mentally the ups and downs that it comes with. I'd love to understand more about what resilience someone like Rory has to have playing a sport like golf which I imagine can be a very lonely place when you aren't playing your best game. Maybe you can tell I love sport, but I do find there is a lot of similar principles in sports and recruitment – hard work, consistency, and passion to name a few!
What advice do you have for someone who wants to get into the life sciences industry?
Success isn't instantaneous; it's a result of hard work and focus. Rapid success isn't sustainable, and my first year at i-Pharm was a great example. I had a lot of success and everything seemed positive. However, my second year was the opposite. It was tough but I kept pushing, improving where I needed to and just staying focused.
Understanding that success takes time, along with its ups and downs, is crucial. Focus on the small tasks and excel at them. While I'm not naturally a salesperson, my strength lies in genuinely caring for people—clients, candidates, and colleagues. By doing right by them, success follows.
Being organised and working smart, not just hard, matters. Don't get lost in the distractions of recruitment. Instead, prioritise the small tasks, ensuring you've given your best to each person. After all, we're dealing with people, not products. Their livelihoods are at stake, and we should be mindful of our role in shaping their future for the better.
Check out our Careers Site for more information on life at i-Pharm.