From Sales Support to Senior Management Accountant: A Q&A with Lara Enstrom
06 Feb, 2023
7 Minutes
How long have you worked at i-Pharm Consulting and what are the main responsibilities of you...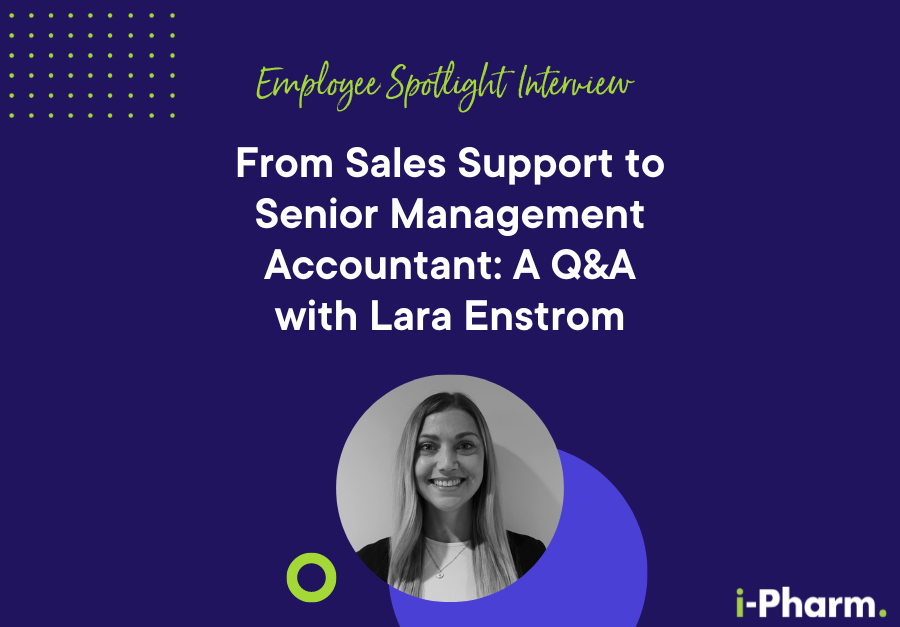 How long have you worked at i-Pharm Consulting and what are the main responsibilities of your role?
I've technically been in the wider Group for seven years but joined i-Pharm specifically when they became more standalone in September 2021. I am the Senior Management Accountant for the US entity specifically, so dealing with everything finance and management accounts related for our US business.
Can you tell us a bit about team Finance?
We are constantly growing, which is exciting, and we all get along really well. We've developed quite a nice little friendship as a group as well and learn a lot from each other. The Management Accounts Team alone has tripled in the last year, so it's been super exciting and I think there is so much more growth to come. We are quite a diverse group of people in terms of the team being made up of some more junior members who have recently joined and then myself and our Senior Finance Manager who has also been at i-Pharm for a few years.
What have been your proudest achievements, individually and as a team?
Individually, I think moving into more of a Finance and Management accounts role and just pushing forward with my accounting qualification as well. It's not been easy since moving countries and starting a whole new life. This wasn't something I had on the go when I first moved to the UK but moving into that accounts role with i-Pharm is what got me going in terms of my career as well as my studies. As a team more specifically, just getting the US book up and running. I was there from the start when the office in New York first opened in 2018. To go from not having a single person on the ground in the US to creating this whole finance team to support the US growth has been quite cool.
What's something about you (a fun fact) that not many people know?
I've been very much into running my whole life. I'm currently nine months pregnant, so not right now but in the past, I've run quite a few ultramarathons. It's always something that I challenge myself with. The longest one I've run was 89 kilometres. That was my biggest challenge I think I've ever taken on myself. It was 11 hours and 40 minutes of running and you had 12 hours to complete it, otherwise, you didn't technically finish the run.
What would you do (for a career) if you weren't in finance?
I've always wanted to be a veterinarian, but it didn't work out in terms of where you could study in South Africa and then we came abroad, so it did slip away. I think that would have been a dream job for me if I could go back in time.
If you could meet anyone, living or dead, who would you meet?
Firstly, I would have loved to have met my grandmother because she passed away when I was really young and I just heard so many amazing things about her. Secondly, being South African and with the country's history, I would say Desmond Tutu. He is really amazing, and he stood up for so much when there was so much at stake.
What advice do you have for someone who wants to get into recruitment?
I just love the fast-paced day-to-day of recruitment. From the finance aspect, it's such a fun environment and a young industry as well. There's so much energy, the people have so much charisma and I think you need that to be working in recruitment. It just brings that aspect of fun to the job as well. I think finance could get quite boring and mundane if you didn't have that nice balance. So, I think for me, the recruitment industry has kept it more vibrant.
How did you get to where you are now?
I relocated from South Africa and joined the Group at that time. That was my first job when I moved to the UK and I actually started off in a compliance role. I only did that for a year and then moved into more of an accounts role and from there I made my way into the Management Accounts team. I've done four different roles just from working either with the Group or with i-Pharm, which has been really great and it shows how much the business has grown. Finance and accounting was something that I always knew I would probably get into one day and i-Pharm has been a nice platform for me to move into that accounting career. Since then, I've also started my accounting qualification, which has been great and i-Pharm supported that as well.
What do you enjoy most about working at i-Pharm?
i-Pharm is so diverse and the changes that have happened over the last few years have given me the opportunity to move around within the team and gather many different skills along the way. That has kept it really interesting and exciting. Especially with the US being my focus, we all know the US is on a trajectory for big things, so it keeps you on your toes.
What do you think makes the Finance team a success?
We have all really learnt to help each other along the way. As I said, there's such a diverse group of people. There are people who have only literally just joined the team and it might be their first account's role and then there are people who have been in finance for years. Everyone is good at really stepping up to help one another. It's not even a one-man band, everyone does reach out if someone needs it, so that's contributed to where we are now. Everyone's willing to step out of their roles a little bit if needed, especially through any growth period to kind of help everyone else.
Check out our Careers Site for more information on life at i-Pharm.